The first announcement of The 27th IFCAA General Conference(

760KB)
IFCAA2012 SAPPORO International Fire and Safty Exhibition(

637KB)
Welcome to SAPPORO
With the population of 1.9 million, Sapporo ranks the 5th largest city in Japan, and serves as the political, economic and cultural center of northern Japan. Well-developed transportation systems allow easy access to the city. The city is proud of the extraordinary harmony between nature and an urban setting.
There are many characteristic parks in the city to provide you with greenery and places for recreation and comfort. Just outside of the urbanized area, you will find natural forest areas where you can enjoy various outdoor activities, such as hiking in summer and skiing in winter.

Dear the participants of IFCAA2012 Sapporo. From Japan Tourism Agency(

621KB)
Dear the participants of IFCAA2012 Sapporo. From Japan National Tourism Organization(

406KB)
Participation(

28KB)
International Fire Chiefs' Association of Asia (IFCAA)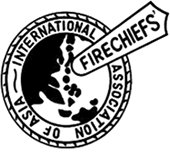 The IFCAA was established in 1960 with the mission to maintain international friendly relations among fire chiefs in Asian countries, promote research of technology and measures to property life and property from fire, and exchange fire service knowledge and information of each country the development of Asia's fire services.
This organization consists of 22 countries and 2 regions among Asia and Oceania regions.
IFCAA2012 SAPPORO
Along with domestic and international conferences such as "The 27th International Fire Chiefs' Association of Asia General Conference", "The 64th Fire Chiefs' Association of Japan General Conference", Sapporo will be hosting events including the "International Fire and Safety Exhibition" and "Combined International Rescue Team Training" will be held here in Sapporo from June 20(Wed.) 2012. (IFCAA 2012 Sapporo is a generic name of the event.)
This will be the first time in Hokkaido to host such large scale fire-fighting events of international conferences, fire and safety exhibitions, and combined International rescue team training.
Theme ~Joining Forces for Asia's Security~
Many countries and regions in Asia have been affected by a series of natural disasters in recent years. It is extremely difficult for a devastated country to get restored without the help of others. Therefore, mutual understanding and cooperation among countries and regions in Asia are indispensable in order to overcome such tragedies.
The IFCAA General Conference is a place where fire chiefs of Asia get together to take advantage of this great opportunity for each country and region to recognize the importance of international cooperation.
Symbol mark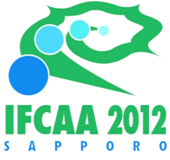 Our logo was designed with the traditional patterns worn by the Ainu people, the indigenous inhabitants of Hokkaido and the surrounding regions. The bubbles represents the image of water which is an essential element for preventing fires and disasters.
Because this will be a large event centralized around the theme of fire and disaster prevention, the traditional pattern we used for the logo is a hex symbol used by Ainu people to ward away bad sprits called kirau(meaning "horns") on moreu("swirls").
We have chosen colors that represent beautiful water and nature which are the impressions of Hokkaido. We also wanted to make this conference an event loved by a wide range of citizens; therefore we have chosen bright uplifting shades of green and blue.